Little Bumble is a local company founded by a wife/mum/school teacher who was fed up with food wastage and over consumption of plastic wrap, so she started Little Bumble and developed reusable food wraps & more!
Little Bumble Reusable Food Wraps are a naturally antibacterial cover or wrap made from 100% cotton and coated in a natural wax blend ( Australian Beeswax (or plant-based waxes), Natural Tree Resin, Jojoba Oil and Coconut Oil. These are pre-blended in the right ratio so you can achieve perfect results every time). These food wraps are a reusable and eco friendly substitute for plastic cling wrap that keeps food fresher for longer!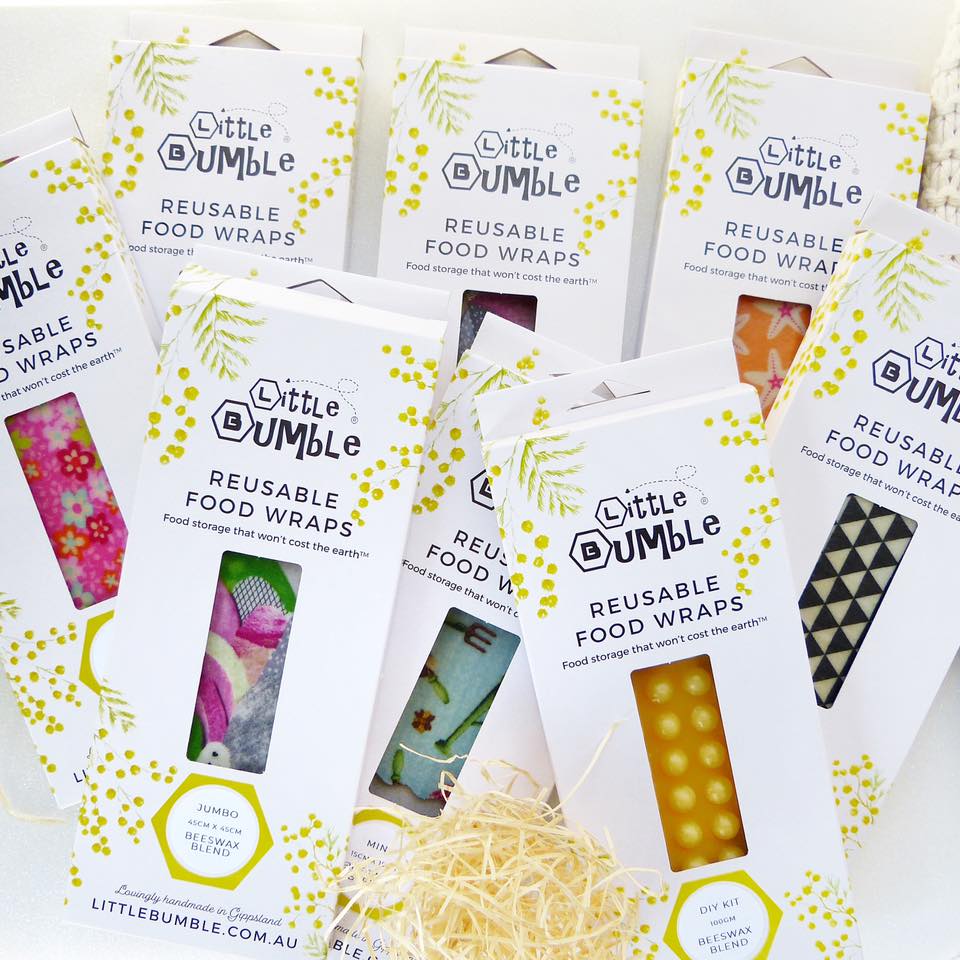 Compared to plastic wrap and containers that suffocate food, our food wraps allow food to breathe and protects it from wilting in the fridge. This keeps food fresh and crisp, as it should be!
The average family goes through close to 1,000 plastic bags and 24 rolls of plastic wrap per year. Two boxes of plastic wrap, ranging from three to five dollars each, per month adds up to around nearly $90 per year. Then throw in plastic bags, which cost anywhere from $5-$8 per box, and you are spending over $200 per year on something that you throw in the trash! Stop throwing your money away, literally!
Rather than contributing to the 10 million plastic bags used EVERY DAY in Australia, invest in a product that you only need to buy once, that is compostable and is locally made
Reusable food wraps can be shaped and wrapped directly around your food (fruit & veggies, sandwiches, snacks) as well as kitchenware (bowls, plates, etc.). Simply shape the wrap directly around your food items or kitchenware using the warmth of your hands to stick them down. For example if you want to cover a bowl, all you need to do is place the wrap on top and hold the sides of wrap onto the bowl then the heat of your hands will seal and secure the wrap.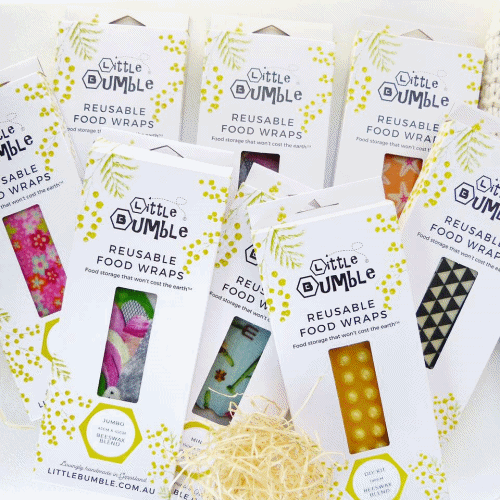 Food wraps can last up to 1 year (and potentially much, much longer!) depending on use and care. They can be refreshed with more wax or composted at home when they have reached the end of their life.
At Glo Health we are passionate about personal well-being and the well-being of our planet. Check out our range of Little Bumble Reusable Food Wraps which will help you save food, save money and save the planet!'