By Leigh Cutler - Glo Health team member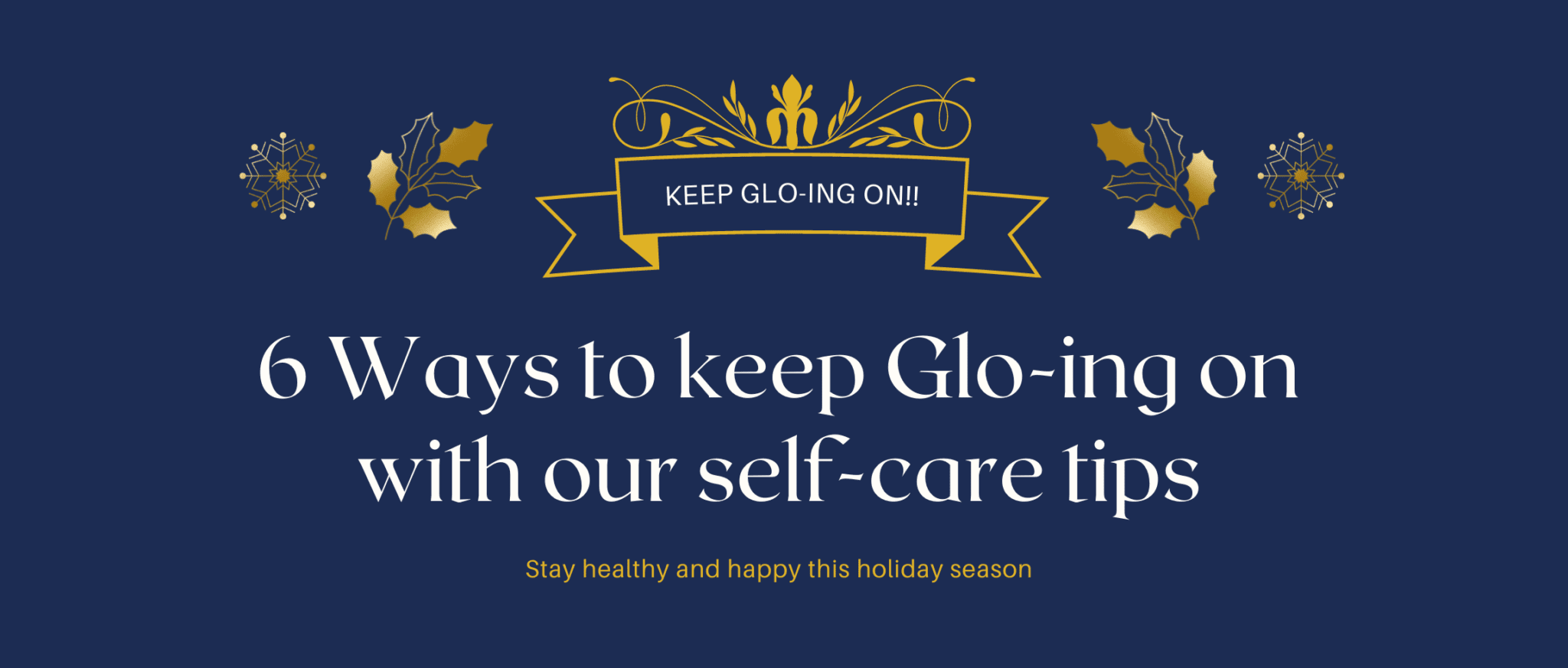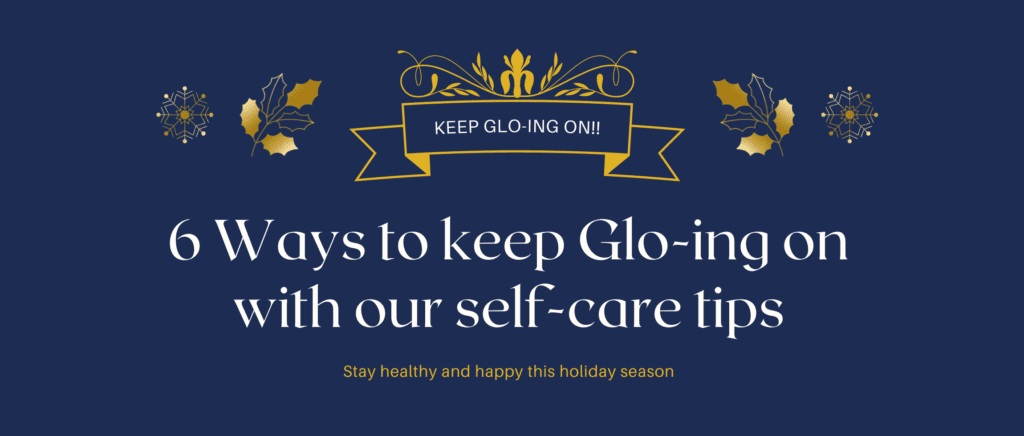 What a year!! Between pandemic and holidays
Self-care is very important this time of year, especially as many have been affected with Corona-twists and turns. As this December comes around, we can all begin to plan festive get-togethers with friends and loved ones. The transition is not always an easy one, with the need for caution still in many minds. There is no better time to adopt a caring habitude towards ourselves and those around us.
6 self-care ways the Glo Health team will celebrate this festive season and come out Glo-ing
1. Time out
Taking time for yourself or making sure others do the same is key. Take a quiet walk, meditate or even gift yourself or someone you love with a leisurely essential oil bath soak, a relaxing massage or even some little indulgences like Dr Zelster Electuaries (naughty but nice truffles that power your brain).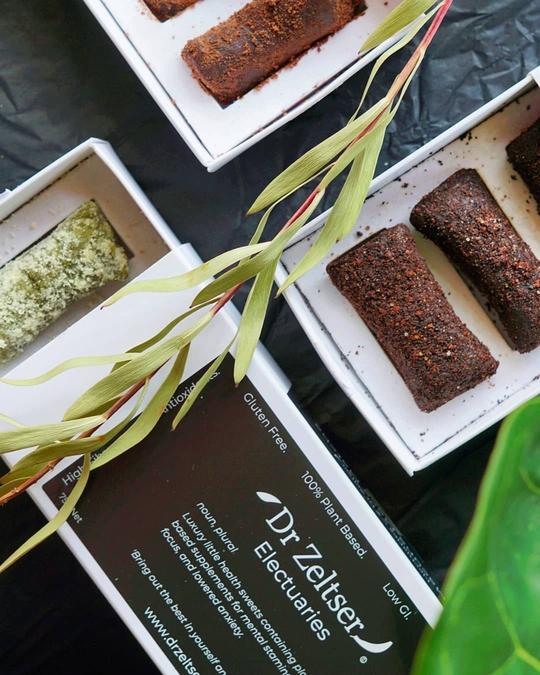 2. Moderation
Pace yourself. One day of overeating never killed anybody however, 3-4 weeks of social gatherings and an abundance of food and drink might tip the scale. Nutrition Australia1 reports that Australians gain an average of 0.8 to 1.5kg over the Christmas period. Greater quantities of alcohol and larger portions of energy dense food are to blame with people consuming up to 3 times their normal intake2. Using strategies such as making specific choices about what food is worth eating, portion sizes and planning ahead may be the key according to a study published by the US National Weight Control Registry3.
3. Sleep
Often the first thing to go with the demands of the busy holiday period interfering with the ability to get consistent and sufficient sleep. Sleep is one of the most important things we can do for our wellbeing. Avoid getting stressed and sapped during the holidays by prioritizing sleep. Take a night off here and there or give yourself a curfew so that you get the decent shut eye you deserve.
4. Kindness
Did you know kindness is contagious? Numerous studies have found that being kind and helpful to others, for example volunteering or donating to charities makes us feel happy, promotes co-operation, empathy and gratitude as well as providing social connection4,5. It's great for our health! If you are looking for a GREAT cause, we here at Glo love to support Share the Dignity, who provide women and children with essentials they could otherwise not afford, like shampoo or pads (www.sharethedignity.org.au).
5. Keep moving
Exercise is an excellent de-stressor and great for your holiday wellness. While going for a 5k run at 6am after a big night might not necessarily happen, it is possible to work exercise into your busy schedule in gentler and more creative ways. Enjoy the long, gorgeous summer days and go for a walk or some other physical activity as part of your holiday routine.
6. Know your limits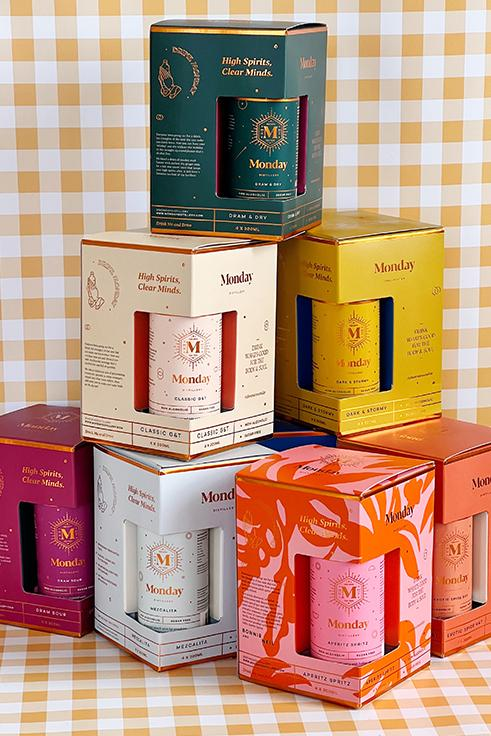 There's one you after all. Plan smart and manage time to your advantage. Pre-prepare things that you can and be sure to delegate and share your load. Be selective with the activities you choose to attend and consider which of those you'd like to be more indulgent with and those where restraint might save the day. You can always have a great night out without getting boozy and enjoy a delicious low cal, alcohol free beverage from the mixologists at Monday Distillery? Grab a Classic G&T or a Paloma, a refreshing tequila taste with grapefruit, passion fruit, yuzu and finger lime. There are Grab some from the instore.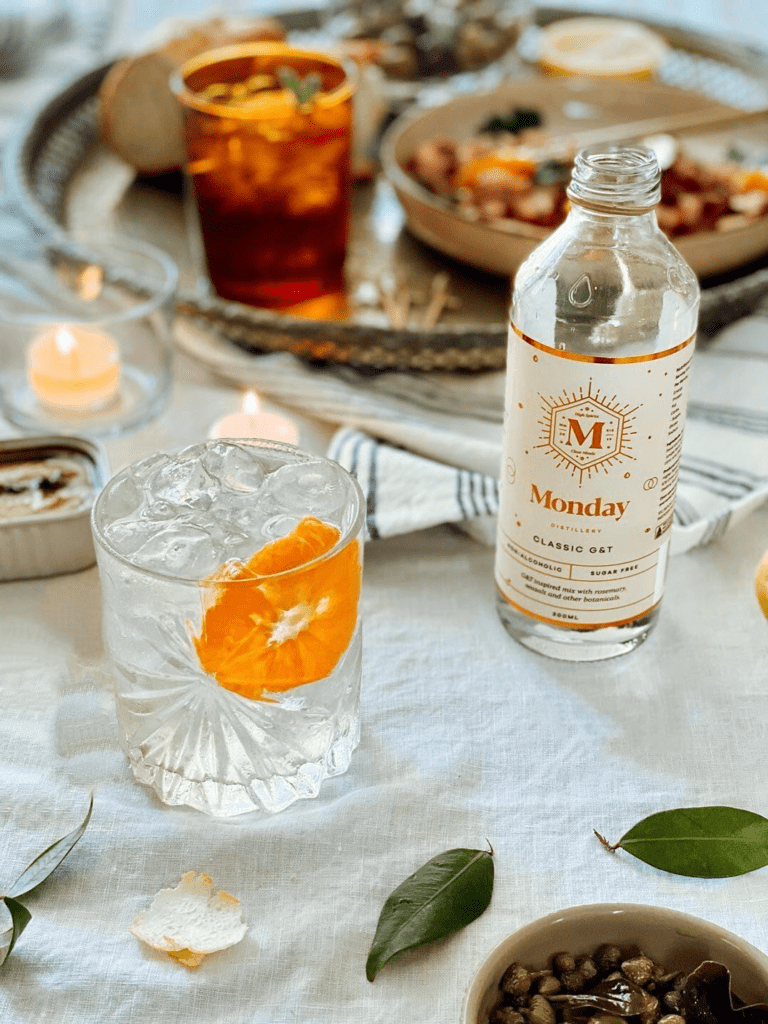 Mason F, Farley A, Pallan M, Sitch A, Easter C, Daley A J et al. Effectiveness of a brief behavioural intervention to prevent weight gain over the Christmas holiday period: randomised controlled trial BMJ Christmas Edition 2018; https://www.bmj.com/content/363/bmj.k4867
Olson, K., Coffino, J.A., Thomas, J.G. and Wing, R.R. (2021), Strategies to manage weight during the holiday season among US adults: A descriptive study from the National Weight Control Registry. Obes Sci Pract, 7: 232-238. https://doi.org/10.1002/osp4.470
Yeung, J.W.K., Zhang, Z. & Kim, T.Y. Volunteering and health benefits in general adults: cumulative effects and forms. BMC Public Health 18, 8 (2018). https://doi.org/10.1186/s12889-017-4561-8.
Rowland, L. (2018). Kindness: Society's golden chain. The Psychologist, 31, 30-35.